ABOUT | PHOTOGRAPHER BIO
Tony Middleton is an experienced and accomplished landscape photographer and has been shooting landscape images throughout the Gippsland region and all over Australia for the last 15 years. Tony's passion for photography is driven by an intense love of nature and the environment and his desire to capture the interplay of light and natural beauty with each image. In so doing each image promises to bring the natural world, its wonder, majesty and beauty closer to our lives and every day experiences.
Images
Tony's adventurous nature and quest for perfection has seen him travel the length and breadth of Australia in pursuit of his passion and the art of landscape photography. Tony's photography philosophy is "to get each image right in camera, in the field". Sometimes this means waiting for days at one location, or returning to the same locations countless times for years, to achieve the 'right light' for the 'right image'. This patience and professionalism - often times trapped in the outback somewhere well out of phone range - produces unrivalled results of beautiful and authentic landscape panoramas, coastal imagery, outback Australia, storm surges, lightning strikes, bush fires and other natural phenomenon.
Equipment & Technology
Tony has extensive experience and in depth knowledge of a range of film and digital photographic equipment and technology: ranging from medium format, panoramic format, SLR cameras through to professional digital cameras and associated software. This knowledge enables versatility and the use of the best equipment for the job. The results are stunning panoramic landscape images professionally shot on professional equipment: that produce images of amazing detail that are as well capable of extremely large print sizes. Tony uses Apple Mac computers and Adobe programs to finalise his images for web and print.
Purchasing Works & Commissions
Tony's images are moody, beautiful, stunning, atmospheric and often gripping: capturing a sense of place or part of the natural world. With over 15 years of experiences Tony has a comprehensive collection of images capturing unique moments all over Australia. These include, wilderness landscapes, rural scenery, breathtaking weather and thunderstorm images, black and white stills, structures of aesthetic and historical significance and outback Australia.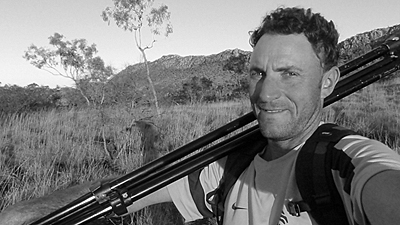 Clients using Tony's work.
Over many years Tony's work has been bought and is adorning the walls of homes and offices all over the world. His work has also been keenly sought after and used in magazines, tourism brochures, calenders, corporate and municipality promotions.
Tony's major corporate clients include organisations such as;
- Parks Victoria, not only for commissioned photoshoots but also for HUGE landscape images over 3.0m wide to grace the walls of the head office in Bourke street Melbourne.
- Calorama calendars, where he annually supplies stunning landscape images.
- TJ Timbers, commissioned promotional enviromental images that promote their sustainability approach.
- ABScenes Corporate calendars - supplying half the images for each edition every year.